Fun clouds - why?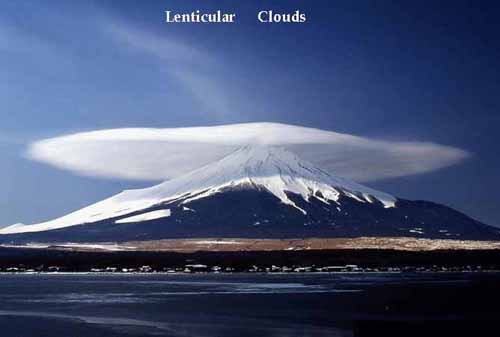 Lenticular clouds, technically known as altocumulus standing lenticularis, are stationary lens-shaped clouds that form at high altitudes, normally aligned at right-angles to the wind direction.

Where stable moist air flows over a mountain or a range of mountains, a series of large-scale standing waves may form on the downwind side. Lenticular clouds sometimes form at the crests of these waves. Under certain conditions, long strings of lenticular clouds can form, creating a formation known as a wave cloud.

Power pilots tend to avoid flying near lenticular clouds because of the turbulence of the rotor systems that accompany them, but sailplane pilots actively seek them out. This is because the systems of atmospheric standing waves that cause "lennies" (as they are sometimes familiarly called) also involve large vertical air movements, and the precise location of the rising air mass is fairly easy to predict from the orientation of the clouds.
"Wave lift" of this kind is often very smooth and strong, and enables gliders to soar to remarkable altitudes and great distances. The current gliding world records for both distance (over 3,000km) and altitude (14,938m) were set using such lift.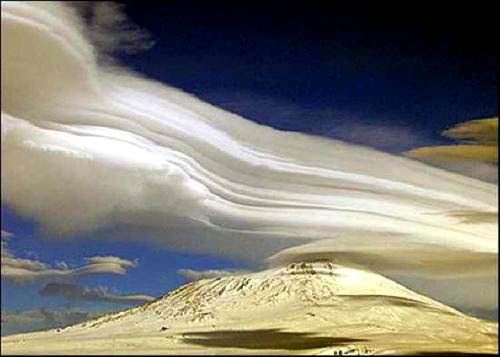 Contrail, streamer of cloud sometimes observed behind an airplane flying in clear, cold, humid air. It forms upon condensation of the water vapour produced by the combustion of fuel in the airplane engines. When the ambient relative humidity is high, the resulting ice-crystal plume may last for several hours. The trail may be distorted by the winds, and sometimes it spreads outwards to form a layer of cirrus cloud.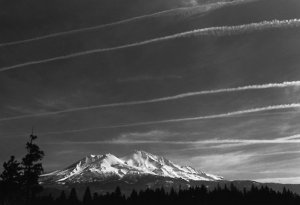 Cirrus clouds are characterized by thin, wisplike strands, often accompanied by tufts, leading to their common (non-standard) name of 'mare's tail.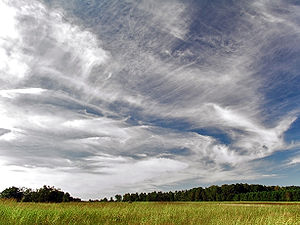 Cirrus clouds are formed when water vapor freezes into ice crystals at altitudes above 8000 meters (26,000 ft). Due to the sparse moisture at a high altitude, they tend to be very thin. At this altitude, aircraft leave condensation trails that can turn into cirrus clouds. This happens when hot exhaust, mostly water, freezes, leaving a visible trail. Streaks may appear straight when wind shear is absent, giving the clouds the appearance of a comma (cirrus uncinus), or tangle, an indication of high-level turbulence. The falling ice crystals evaporate before reaching the ground
Cumulus clouds are often called "fair weather" clouds--this especially holds true if the clouds become smaller throughout the day. These isolated, puffy clouds look rather like cauliflower or cotton balls.