Topography of Hong Kong Part II
compiled by Au Si Mei
Coastal Waters

Hong Kong's landscape is defined to a great degree by its complex coastline, patterns of offshore islands and by the resulting relationship between land and sea. Hong Kong's areas of inshore and offshore water are therefore crucial components of its wider 'landscape'. These coastal waters exhibit considerable variety in themselves. They vary from the vast, expansive offshore waters off southern and eastern Hong Kong which possess very few features, to the complex coastal landscapes of bays, headlands and islands in Port Shelter which create a complex and tranquil visual experience.
Deep Bay on the other hand forms an enclosed, largely inter-tidal landscape of shallow water and mudflats with a particularly tranquil character. By contrast, Inner Victoria Harbour with its spectacular urban waterfront and vibrant traffic of marine vessels forms one of the most striking coastal landscapes anywhere in the world.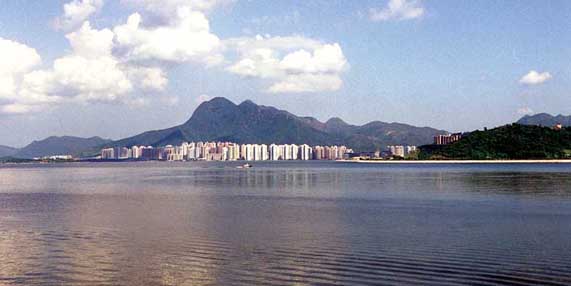 The Coastal Waters of Tolo Harbour

Key Landscape Characteristics
• Numerous small offshore islands: typically, steep sided, rugged with only a thin covering of scrub and grass
• Coastal bridges, a recent phenomenon in the Hong Kong landscape, including spectacular structures such as the Tsing Ma and Ting Kau bridges.
• Fish farms or 'yue pai', a common sight floating off remote coastlines.
• Shipping and marine vessels, the most common and significant feature in the coastal landscape, including pleasure craft, fishing vessels, freighters, ferries and ocean-going liners and container ships.
• Anchorages, designated moorings for the unloading and loading of vessels, result in striking 'floating landscapes' of ships and their lighters.
• Marinas and Typhoon Shelters, dense accumulations of moored vessels in inshore waters are a common site around Hong Kong, whether the prestigious marina at Causeway Bay, the typhoon shelter at Cheung Chau or the extensive marina at Hebe Haven Cove.
• Victoria Harbour, one of the most spectacular urban landscapes anywhere in the world, is a product of the relationship of sea, landform and built form.

The Outlying Islands
The Outlying Islands include those offshore islands too small to be considered as sub-regions in their own right (such as Lantau or Hong Kong Island) but which are too large to be considered as merely features in the wider coastal waters (such as offshore rocks).
As they are widely scattered throughout the coastal waters of Hong Kong, they are found on a variety of different rocks which in turn gives rise to a variety of landscape character. For example, the Outlying Islands in the eastern waters of Hong Kong lie on volcanic tuffs and form rugged islands which rise steeply from the sea, often with dramatic coastal features such as sea arches and sea caves (Tung Lung Chau), cliffs (Basalt Island) or striking geological formations(Ninepin Group).

Basalt Island is at the far Eastern edge of Port Harbour in Sai Kung. It is within the bounds of what used to be a British Navy firing range, but since the handover, even though still demarcated, is no longer used for such operations. There is no hard coral growth here to speak of, mainly because the water is quite turbid and the visibility can be very low, especially after a storm. However, the boulder substrata means that there are plenty of nooks and crannies within which you will find a whole host of fish such as sweepers and pearl spots and the odd butterfly fish.
Despite its English name, the island is called 'Fo Sek Tsai' in Cantonese. 'Fo Sek' literally means 'fire stone' and is actually the Cantonese for flint, which can be found around the island.
Islands in the southern and western offshore waters lie on granites and are somewhat more rounded with less spectacular coastal formations. These include the Soko Islands, Lung Kwu Chau and Hei Ling Chau. A smaller number of islands in waters off the north-east of Hong Kong lie on sedimentary rock (sandstone, mudstone, siltstone). These islands tend to be fairly low lying and weathered into striking or spectacular coastal formations, such as those at Ma Shi Chau, Port Island and Ping Chau. Only a small number of these islands support a significant population (e.g. Po Toi).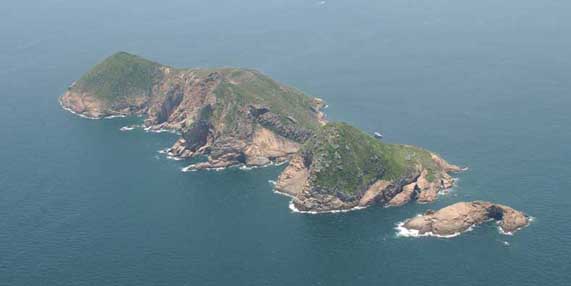 The Ninepin Group

Key Landscape Characteristics
• A tombolo, or set of joined islands, occurs where long shore drift or tidal action deposits sand between two islands to form a narrow, low-lying area of land between them. Good examples are Ma Shi Chau and Sha Chau.
• Sea cliffs, sea arches, sea caves and stacks are dramatic coastal features found primarily on areas of volcanic rock on the eastern shores of Hong Kong. Isolated beaches, such as that at Ping Chau.
• Ping Chau, perhaps Hong Kong's most singular landscape by virtue of its unusual sedimentary geology, striking coastal landforms and unusual natural history.
• Isolated fishing villages are typical of many outlying islands, such as the small communities at Po Toi and Tung Lung Chau.
• Navigational and communications features (such as lighthouse in Wanglan Island and telecommunications structures on Sha Chau and Lung Kwu Chau) and public infrastructure facilities (such as the correctional institution at Hei Ling Chau) are often located on outlying islands.
Sha Chau & Lung Kwu Chau - home of Chinese White Dolphins
Located in the Pearl River estuary, water in Sha Chau and Lung Kwu Chau Marine Park off the Pearl River is highly diluted by the river's freshwater discharge. Having rich estuarine resources with more than 50 fish species recorded, it serves as a feeding ground for Chinese White Dolphins

The majority of Hong Kong's landscape consists of steep, undeveloped mountains and hills, which fall steeply to the coast. Hong Kong's uplands form a pattern of ridges and valleys running for the most part, in a northeast to east/north-east direction. This Upland Countryside Landscape dominates the southern, central and eastern New Territories, as well as northern Kowloon, Hong Kong Island and Lantau Island and occupies around 59% of Hong Kong's land area.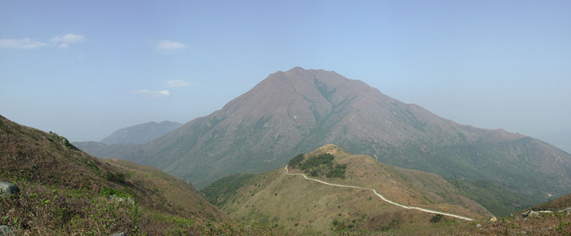 Upland Countryside Landscape (Sunset Peak, Lantau Island)

Because of its dramatic underlying geology, Hong Kong has few natural lowlands below around 40mPD. Even fewer of these retain their traditional rural land uses and landscape features. Such 'Lowland Countryside Landscapes' are found in small areas in the South-east and North-east New Territories and on Lantau Island, occupying in total, around 8% of Hong Kong's land area.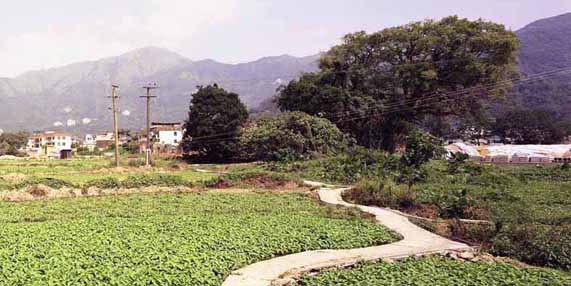 Lowland Countryside Landscape (Shek Kong, Yuen Long)
By far the most extensive area of Lowland countryside andscape is found in the North-west New Territories in a belt between Lau Fau Shan and Sha Tau Kok. This area forms an extensive rural coastal plain landscape with a low-lying, open area of land, historically reclaimed from Deep Bay and forming a striking landscape of tightly packed fish ponds interspersed by occasional trees and buildings.
With the changes to the rural economy over the last few decades, many formerly agricultural based rural landscapes have been undergoing gradual change. In such areas, the decline of agricultural activities has led to their replacement by non-rural land uses and features, such as open storage, vehicle parking, golf courses and infrastructure development.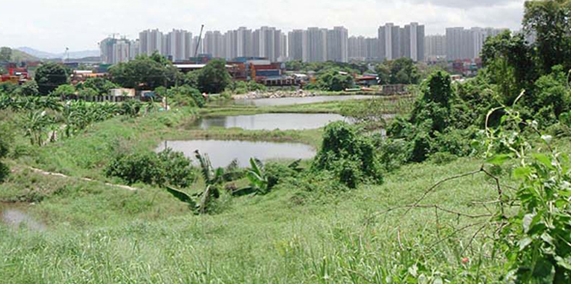 Rural Fringe Landscape (Ha Tsuen, Yuen Long)

In these locations, the character of the landscape remains predominantly rural, but there is a perceptible increase of development in the landscape. The 'Rural Fringe Landscapes' are found across Hong Kong, but particularly in the lowlands of the North-west and Northern New Territories. They occupy around 10% of Hong Kong's land area.
The low-lying coastal plain of the North-west New Territories (NWNT) shapes a striking landscape that is almost as much water as it is land. At Nam Sang Wai, Lut Chau and San Tin, areas which are largely reclaimed from the sea, are extensive low-lying landscapes of densely packed fish ponds, whilst along the coasts at Tsim Bei Tsui and Mai Po lie tranquil landscapes of shallow coastal water, mud flats, reed beds, mangrove and gei wai.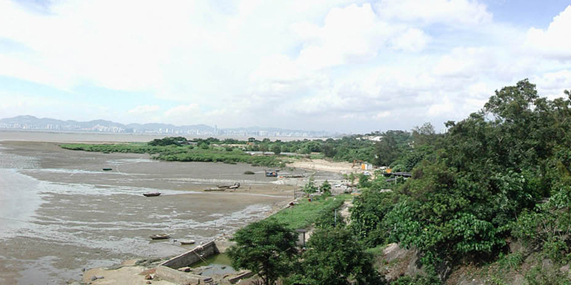 Lau Fau Shan, Yuen Long

The eastern coastline of the New Territories consists of a series of steep volcanic uplands forming angular mountain peaks (such as Sharp Peak or Pyramid Hill) which fall dramatically into the sea, producing spectacular cliffs, rock formations and angular, deserted offshore islands.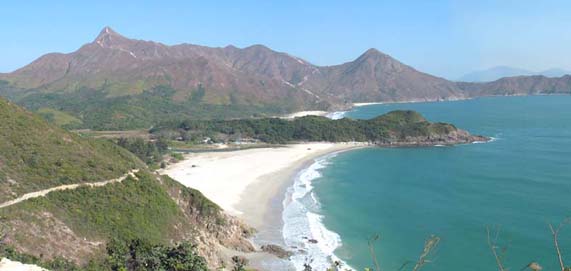 Tai Long Wan, Sai Kung

All along the coast can be found remote bays, or inlets (such as that at Lo Fu Wat in the Tolo Channel) and isolated beaches (the best known being those at Tai Long Wan in Sai Kung). The Tai Long Wan area is still largely inaccessible and almost free from development, and much of this landscape offers a strong sense of remoteness and natural beauty, an attribute rare in a compact city like Hong Kong.
Comprising most of the highest mountains in Hong Kong (including Tai Mo Shan, Ma On Shan and Pat Sin Leng), the major peaks of the New Territories form some of its most spectacular and memorable landscapes.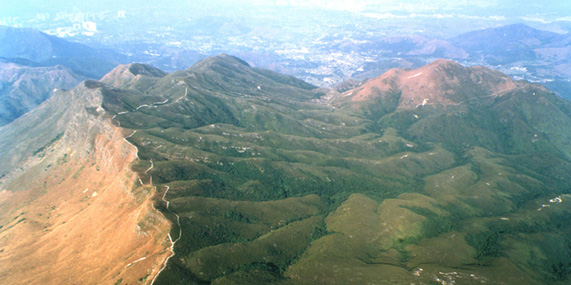 Pak Sin Leng, Tai Po

Above the tree line, these landscapes are generally rugged, remote and exposed and are characterised by short grasses and low scrub, rock outcrops, rock forests and ephemeral streams. Comprising dramatic landscapes characterised by their elevation, remoteness and expansiveness, these areas are as memorable for their dramatic topography and sense of isolation, as for the spectacular views that they offer across the New Territories.

Villages in the Landscape -
In the North and North-east New Territories are low-lying landscapes in which streams wind through active or abandoned agricultural fields, blocks of woodland and isolated villages, many of which are traditional fortified villages (or 'wai'). These villages are connected by lanes which meander through the arable fields that surround them. Whilst this landscape is the subject of much ongoing change in land use (especially disuse of agricultural land and an increase in numbers of storage yards) some areas retain much of their former rural character and this is one of the last places in Hong Kong where the traditional form and relationship of vernacular villages to other rural landscape features can still be experienced.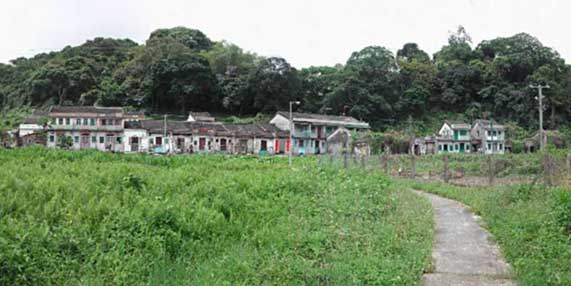 Fung Hang Village, Luk Keng

The Land in the Sea – Hong Kong's Island Landscapes
The intimate relationship of the land to the sea is one of the key characteristics of the wider Hong Kong landscape. Along Hong Kong's complex coastline can be found hundreds of islands, some little larger than rocks, others supporting significant populations. Many are isolated, alone in the sea whilst others, such as the Soko Islands or Po Toi Islands form scattered groups. Their remoteness and outlying locations mean that in some cases (notably at Tung Ping Chau) they form unique landscapes, rich in nature conservation interests.

The Ninepin Group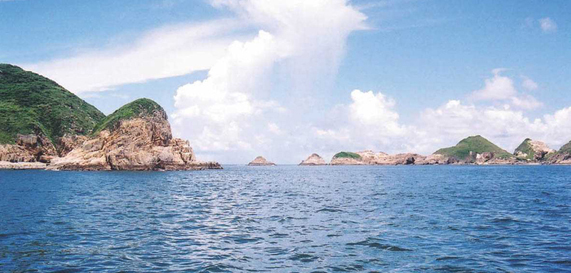 Diverse Landscape of Hong Kong
http://www.pland.gov.hk/p_study/prog_s/landscape/landscape_final/ch6.htm