Ice Calving - observation about global warming
區仕美資料整理
Satellite image of ice island that calved off the Petermann Glacier , Greenland on August 5, 2010
LOOK: Before and after images of the Petermann Glacier in Greenland. The cliff walls on the side of the glacier are three times the height of the Eiffel Tower:
Credit: Jason Box/Byrd Polar Research Center, Ohio State University.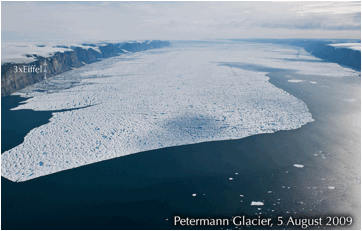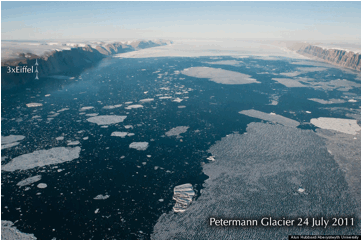 Calving of Glacier – Petermann Glacier at Greenland
Petermann Glacier is a large glacier located in North-West Greenland to the east of Nares Strait. It connects the Greenland ice sheet to the Arctic Ocean near 81 degrees north latitude. The tidewater glacier consists of a 70 km (43 mi) long and 15 km (9.3 mi) wide floating ice tongue whose thickness changes from about 600 m (2,000 ft) at its grounding line to about 30–80 metres (98–260 ft) at its front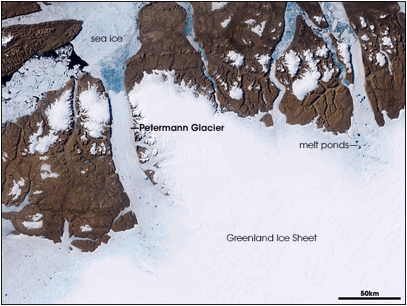 Ice calving, also known as glacier calving or iceberg calving, is a form of ice disruption. It is the sudden release and breaking away of a mass of ice from a glacier, iceberg, ice front, ice shelf, or crevasse. The ice that breaks away can be classified as an iceberg, but may also be a growler, bergy bit, or a crevasse wall breakaway
According to Ted Scambos, lead scientist at the National Snow and Ice Centre, many of Greenland's southern glaciers have been melting at an unusually rapid pace. The Petermann break brings large ice loss much farther north than in the past. If it continues, and more of the Petermann is lost, the melting would push up sea levels, he said. The ice lost so far was already floating, so the breaks do not add to global sea levels.
The ice sheets lose material by several processes, including surface melting, evaporation, wind erosion (deflation), iceberg calving, and the melting of the bottom surfaces of floating ice shelves by warmer seawater. In Antarctica, calving of ice shelves and outlet glacier tongues clearly predominates among all the processes of ice loss, but calving is very episodic and cannot be measured accurately. The amount of surface melt and evaporation is small, amounting to about 22 centimetres of ice lost from a five-kilometre ring around half the continent. Wind erosion is difficult to evaluate but probably accounts for only a very small loss in the mass balance. The rate of melting decreases inland, and at that point some freezing of seawater onto the base of the ice shelves must occur, but farther inland, near the grounding line, the tidal circulation of warm seawater may produce basal melting. It appears that accumulation on the surface of the Antarctic Ice Sheet is approximately balanced by iceberg calving and basal melting from the ice shelves.
In Greenland, surface melt is more important, calving is less so, and under shelf melting is important only on floating glacier tongues (seaward projections of a glacier). Most of the calving is from the termini of a relatively few large, fast-moving outlet glaciers. Observations have been made in the past showing that the retreats were stopped from the 1950s through the 1970s. After a period of relative stability and advance during the 1980s, glacier retreats have both resumed and accelerated in Greenland since the mid-1990s
http://www.britannica.com/EBchecked/topic/234619/glacier/65688/Information-from-deep-cores